Biography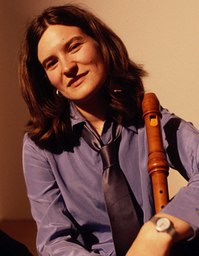 Catherine combines work as a teacher of the Alexander Technique with her career as a musician. She studied the Alexander Technique with the late Walter Carrington at the Constructive Teaching Centre in London (the longest established training school in the world) graduating in July 2005, and has continued her study of AT with John Nicholls, Ilana Machover and Jane Saunderson.
Catherine graduated from the University of Hull in 1995 with a BMus Honours degree and was awarded the Andrew Brown Memorial Prize in Music (for the highest performance recital mark). Catherine was then invited to remain in Hull as a specialist recorder tutor for the music department. She undertook postgraduate study at the Guildhall School of Music and Drama with Pamela Thorby where she won the 1997 Portallion Chamber Music Prize with guitarist Arngeir Hauksson, and in 1999 the Deutsche Bank Pyramid Award (with Concanentes).
Catherine is a founder member of The Flautadors recorder quartet, and the award winning medieval and renaissance ensemble Concanentes. With these two chamber groups, she has performed in many of the major festivals in Europe including York, Barcelona and Bruges Early Music Festivals and toured extensively in the UK, The Netherlands, Ireland and France. Catherine has given solo recitals and masterclasses all over the UK playing in the Royal Festival Hall, Purcell Room and Pump Room in Bath, as well as performing with several orchestras including the English National Opera, the Retrospect Ensemble and the National Chamber Orchestra of Wales.
Catherine teaches at Eton College, Marlborough College and is Professor of Recorder at the Guildhall School of Music and Drama. She regularly gives workshops in the Alexander Technique to musicians, for example on the Eton Choral Courses. Catherine has worked as an external examiner for Guildhall School of Music and Drama and Trinity College of Music, as well as adjudicating in the UK and Hong Kong.